Greetings from the Chairman

Greetings from chairman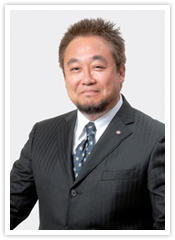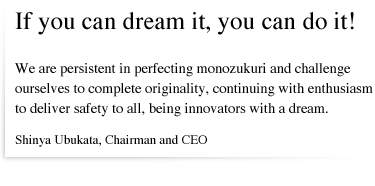 "Let our engineers imagine the unimagined; let our technical experts make what has never been made" are the words Susumu Ubukata, our first president and founder, who is also my venerated father. 

These words enshrine a founding spirit so essential for Japan's development as a nation following the war. Advocating an "industrial nation theory" which was no more than economic self-sufficiency through the promotion of industrial technology, he took the initiative and set the pace for the development of unknown new product with superlative leadership, ardently and audaciously persisting in the dream of building Ubukata Industries from a penniless state into the company it is today.

A half-century after our founding, we head forth into our next fifty years. Waiting for us is an era without borders where information and goods will freely move from country to country. It will be a tumultuous period, such as never before experienced.

This is why I feel that it is all the more important to take a step back to our origins, doggedly working to preserve "the mainstay of spirit that was our founding spirit" at this time.

With our motto, "If you can dream it, you can do it!," we will continue forward in our aim to "create value for the customer" as a safety innovator that "provides safety to society with unique products and services, and contributes to the development of society," splendid in our uniqueness and finely tuned with abounding dynamism.