Products Information

We believe that safety in equipment involving human lives and everyday living should be an absolute certainty, as found in devices such as our inner motor protectors and seismic sensors, thermal switches, and fire alarms with seismic sensor lights.
Passion for the Safety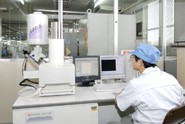 Safety technology is the domain of our company's business. Continuing to provide product that is essential for people to live in safety and for society to safely function, and continuing to pursue the technology for that purpose .... this is where I look for the value of our company's existence. However, the definition of safety changes with the times. Just as equipment to protect information contained in personal computers became necessary with the market release of personal computers, security technology must also evolve. As safety innovators, all the challenges we unremittingly set for ourselves in the way of technical reform are for this purpose. From now on we will also aim to "supply society with safety through unique products and services, contributing to the development of society" as our company's objective.