Technologies / Quality

We have filed more than 950 patent applications.
We value originality as our greatest asset.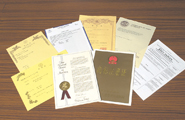 In our role as a development firm which emphasizes original technology, we continue to deliver a variety of products. Ever since filing our first application in 1956 with our "flasher circuit," we have filed patent or utility model applications on a monthly basis. The total has already exceeded 950. In conjunction, we are bolstering our strategy for protecting our intellectual property, where the patent technology for our company begins, by upgrading our system for rewarding inventors and collaborators who bring us patents. In addition to being awarded the Intellectual Properties Service Award (commendation by the Minister of Economy, Trade and Industry) by the Japan Patent Office in recognition of our position of emphasizing originality and our intellectual properties strategy, we have also been recognized by public and private agencies alike as a business that fosters originality.
To assure the quality befitting our own brand,
we encourage the in-house development of equipment,
enhancements in quality control and environmental action.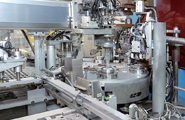 We are committed to the idea that "no product we wouldn't label as our own will leave our doors" and all actions required to maintain the level of quality befitting our own brand are being taken. Quality control measures are thoroughly implemented for all processes, from design through production and inspection. Equipment such as automated filling equipment, forming machines and automated inspection equipment are all developed in-house. A Class 10000 clean room has also been installed and monthly quality kaizen meetings are held where issues are shared and summarized for solution.